One of the main reasons why we bet at online sportsbooks is the bonuses. This is a unique take on the iGaming industry that distinguishes it from land-based gambling. You don't get any kind of bonus when you're betting at a land-based establishment.
Our subject for this section is Stake, one of the most prominent online gambling sites in the US. We're calling it a "gambling site" instead of a "betting site" simply because it offers both a casino and a sportsbook. Let's go over the offers from Stake.
Type of Bonus You Can Find in Stake
This is the section where we're going to look at the bonuses you can claim from the Stake sportsbook. Full disclosure, you won't get a traditional welcome bonus from this operator. Also, there is no non deposit bonus Stake as well. Rather, almost all promotions are unique and very enjoyable in our opinion.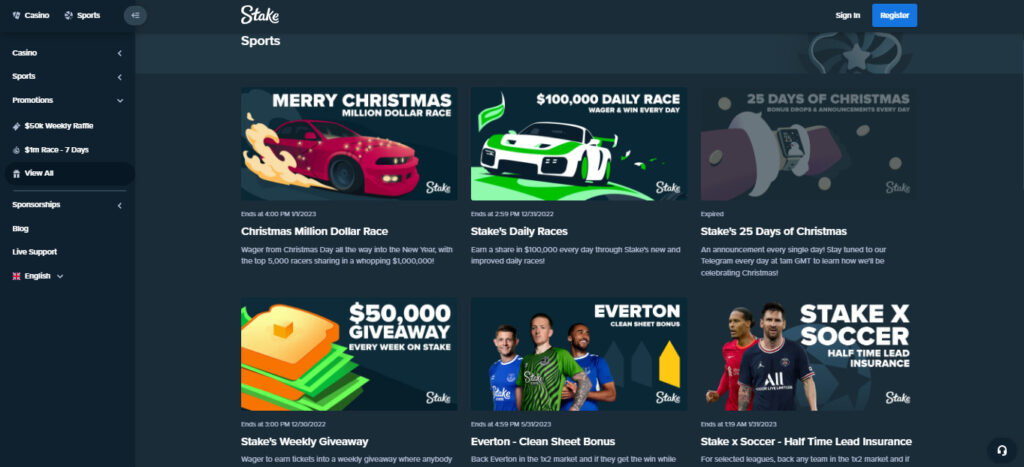 Stake's Daily Races
Dubbed the $100,000 Daily Race, you race against time for this promotion. All you have to do to enter is wager real money on sports events. The race is actually a competition for the leaderboard. The bettors who spend the most take the top places on that leaderboard, creating the "race".
Stake's Weekly Giveaway
Who doesn't like giveaways, right? Especially when you don't have to use any promotion code to enter. Stake's Weekly Giveaway is such a promotion where you wager to earn tickets and enter the draw. You could be sharing a massive $50,000 prize pool with that one ticket!
Tournament-Specific Bonuses
One of Stake's strongest forte is offering tournament-specific bonuses. For example, we're writing this guide during the FIFA World Cup 2022. As a result, the promotions page is packed with FIFA World Cup bonuses.
FIFA World Cup – Half Time Lead Insurance, FIFA World Cup Tipping Competition, FIFA World Cup – Anytime Goalscorer Multiplier, etc. are some examples of the available offers. At the same time, we can see NBA 9+ Lead Payout, NBA Cyber Monday – Primetime Triple Header, and NFL Primetime Double Winnings bonuses.
Although free bet is not specifically mentioned in any of these bonuses, you may get random surprises from time to time.